Coffee machine Siemens "TI907201RW"
You will also need
Might want some of these products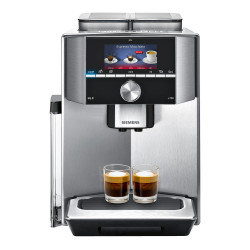 Technical characteristics
| | |
| --- | --- |
| Type | Automatic |
| Manufacturer | Siemens |
| Color | Stainless steel |
| Warranty | 24 months |
| Coffee machine uses | Coffee beans, Ground coffee |
| Coffee machine's screen | Colourful |
| Coffee machine's menu language | english |
| Water tank | 2.3 l |
| Coffee bean tank | 470 g |
| Milk system type | Integrated milk tank |
| Type of coffee grinder | Ceramic |
| Number of black coffees prepared at once | 2 |
| Number of coffee with milk recipes prepared at once | 2 |
| Adjustable beverage amount | Yes |
| Does coffee machine prepare hot water? | Yes |
| Does coffee machine prepare hot milk? | Yes |
| Adjustable coffee strength | Yes |
| Max number of saved recipes | 10 |
| Max cup height | 15 cm |
| Programmable water temperature | Yes |
| Descaling program | Yes |
| Milk system cleaning program | Yes |
| Cleaning program | Yes |
| Automatic rinsing | Yes |
| Adjustable amount of coffee | Yes |
| Power | 1500 W |
| Water pump pressure | 19 BAR |
| Depth | 47 cm |
| Height | 38.5 cm |
| Width | 30.1 cm |
| Country of Origin | Slovenia |
| EAN | 4242003685099 |
| Weight | 12.6 kg |
Read more
Show less
About product
The new Siemens EQ. 9 series coffee machine is a fully automatic machine which performs all the main functions automatically. With two coffee bean containers and two grinders you will be able to enjoy a different coffee taste any time you want, and the "Barista mode" will make sure that all parameters are set up just right, so you could get the most perfect cup of coffee!
FROM NOW ON COFFEE FLAVOUR WILL MEET THE HIGHEST EXPECTATIONS
Two coffee bean containers make it possible to use two different kind of coffee beans without mixing the flavours, and two silently-working ceramic grinders ensure a perfect ground coffee result, providing an absolute comfort of use. Enjoy a fresh taste of your favourite coffee beans!
PREPARE A PERFECT CUP OF COFFEE!
Thanks to the "Barista mode" you will be able not only to customise the strength of your coffee beverages, but also set the temperature, taste, and the ratio between coffee and milk. With the "AromaIntense" technology you will also be able to set the preparation speed to extract various flavours out of your coffee drinks. Coffee spout height is adjustable and can be adjusted up to 15 centimetres. At the same time you will be able to prepare two cups of coffee, and making one after another—even up to six cups of the most delicious coffee drinks. If you'd like to prepare your favourite drink with just one touch of a button—personalize your drink by giving it a name, and pre-setting all the desirable settings.
EVEN MORE AUTOMATIC FUNCTIONS!
Effective "SensoFlow" system ensures the perfect temperature for the highest quality espresso or cappuccino. This system also makes sure that everytime when the coffee machine is turned on again, boiler would heat up in a few moments, and the preparation of your beverage of choice would start immediately.
EASY CARE
Automatic rinsing program starts automatically after every drink prepared. Separate milk container can be easily attached and detached from the coffee machine everytime you need it. "autoMilk Clean" function starts automatically after every drink with milk, and cleans the entire milk system.
Read more
Show less
Visitors questions and discussions
Tried this product? Leave review