Coffee machine Elektra "Micro Casa Leva S1C"
Preparable recipes
You will also need
Might want some of these products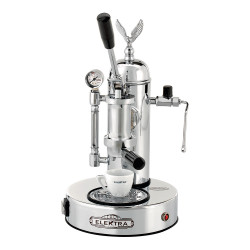 Technical characteristics
| | |
| --- | --- |
| Type | Semi-automatic |
| Manufacturer | Elektra |
| Color | Silver |
| Warranty | 24 months |
| Coffee machine uses | Ground coffee |
| Coffee machine's screen | None |
| Water tank | 1.8 l |
| Milk system type | Manual frother |
| Number of black coffees prepared at once | 2 |
| Adjustable beverage amount | Yes |
| Does coffee machine prepare hot water? | Yes |
| Adjustable coffee strength | Yes |
| Control | Manual |
| Pressure gauge | Yes |
| Diameter of filter handle basket | 49 mm |
| Adjustable amount of coffee | Yes |
| Power | 800 W |
| Depth | 26 cm |
| Height | 45 cm |
| Width | 26 cm |
| Country of Origin | Italy |
| EAN | 8057013531184 |
| Weight | 10 kg |
Read more
Show less
About product
Exclusive design coffee machine Elektra "Micro Casa Leva S1" is made for those who enjoy the process of making coffee and reaching the impeccable result. Coffee lovers from all over the world have been preparing the most delicious coffee with this coffee machine for a few decades now, and the design of this machine was created according to the oldest traditional espresso coffee machines.
EXCLUSIVE DESIGN
The symbol of highest quality crowns the top of this coffee machine—an eagle with the wings spread wide. The coffee machine is covered with brass and copper which makes it's maintenance easy, and ensures durability.
ADAPTED TO HOME USE
This silently working coffee machine ensures great comfort while making coffee drinks at home. When the thermostat arrow reaches the green zone, you are able to start preparing your coffee. Using a spring piston lever, you will easily measure and keep the right pressure during every step of prepararion. When there is a lack of water in the tank, coffee machine automatically stops the production functions, keeping it safe from any damage. Refill the water tank and enjoy the most delicious coffee again!
Read more
Show less
Visitors questions and discussions
Tried this product? Leave review