Coffee machine Delonghi "Primadonna S Evo ECAM 510.55.M"
Delivery takes 1-5 working days
You will also need
Might want some of these products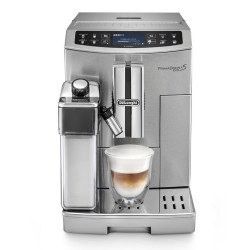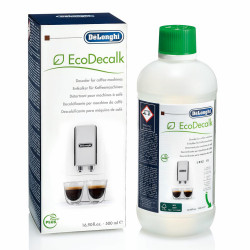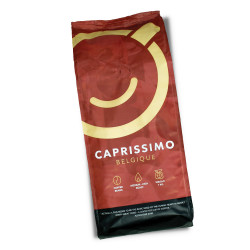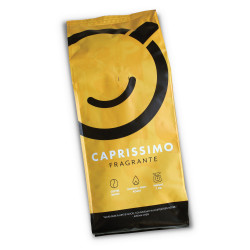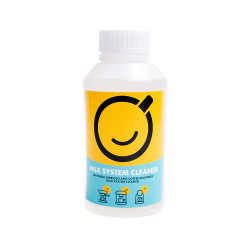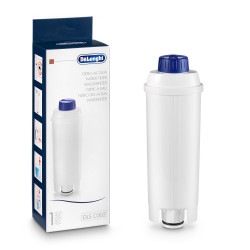 Technical characteristics
| | |
| --- | --- |
| Type | Automatic |
| Manufacturer | De'Longhi |
| Color | Stainless steel |
| Warranty | 24 months |
| Coffee machine uses | Coffee beans, Ground coffee |
| Coffee machine's screen | Black/White |
| Coffee machine's menu language | english |
| Water tank | 1.8 l |
| Coffee bean tank | 250 g |
| Milk system type | Integrated milk tank |
| Type of coffee grinder | Steel |
| Number of black coffees prepared at once | 2 |
| Number of coffee with milk recipes prepared at once | 1 |
| Adjustable beverage amount | Yes |
| Does coffee machine prepare hot water? | Yes |
| Does coffee machine prepare hot milk? | Yes |
| Adjustable coffee strength | Yes |
| Max number of saved recipes | 12 |
| Max cup height | 135 mm |
| Programmable water temperature | Yes |
| Descaling program | Yes |
| Milk system cleaning program | Yes |
| Cleaning program | Yes |
| Automatic rinsing | Yes |
| Grounds' tray capacity in cups | 14 |
| Adjustable amount of coffee | Yes |
| Power | 1450 W |
| Water pump pressure | 15 BAR |
| Depth | 46.5 cm |
| Height | 35 cm |
| Width | 24 cm |
| Country of Origin | Italy |
| EAN | 8004399331679 |
| Weight | 11.5 kg |
| Cup warmer | Yes |
Read more
Show less
About product
The brand new Delonghi "Primadonna S Evo ECAM 510.55.M" – it is a modern and stylish super automatic coffee machine, which improvements surpasses one of the most successful Delonghi coffee machine models "28.465.M and ECAM 28.465.MB".
PREPARE THE MOST DELICIOUS COFFEE BEVERAGES WITH JUST ONE TOUCH OF A BUTTON
Really so, the most popular coffee bevarages with just one touch of a button! With a comfortable LCD screen you will be able to choose from more than 14 coffee beverages recipes – from a perfect consistency italian espresso to streaky Latte Macchiato, coated with a silky milk foam.
"MY MENU" FUNCTION
Suit the coffee machine to your needs! Customise the strength of aroma, amount of coffee and milk and give your beverage a name. That's how you will be able to enjoy authentic coffee beverages at just one touch of a button!
STYLISH AND MODERN DESIGN
Only with functionality, stylish and durable metal body and LCD screen with a touch sensitive buttons this coffee machine does not restricts!
Italian design coffee machine was technologically updated with a coffee dispenser unit, a new drip tray and double-walled thermos milk container, which keeps milk cold longer.
PREPARATION OF COFFEE BEVERAGES WITH A SMARTPHONE
Thanks to application "Coffee Link" you will be able to control your coffee machine with your smartphone. Remotely you will be able not only to select existing coffee beverage recipes, but also to generate new ones. Furthermore, you will be able to control the main functions of your coffee machine and watch videos based on how to reveal all the benefits of Delonghi "Primadonna S Evo ECAM 510.55.M" coffee machine!
Read more
Show less
Visitors questions and discussions